Daily Devotions
---
Meditation, Prayers, and Assorted Stuff for April 16, 2020
Henri Nouwen, Bread for the Journey, "Letting the Word Become Flesh"
Spiritual reading is food for our souls. As we slowly let the words of the Bible or a good spiritual book enter into our minds and descend into our hearts, we become different people. The Word gradually becomes flesh in us and transforms our whole beings. Thus, spiritual reading is a continuing incarnation of the divine Word within us. In and through Jesus, the Christ, God became flesh long ago. In and through our reading of God's Word and our reflection on it, God becomes flesh in us now and makes us into living Christs for today.
Let's keep reading God's Word with love and great reverence.
Jen Pollock Michel published "Twenty More Prayers to Pray as We Approach the Pandemic's Peak" in Christianity Today yesterday. Here are the first ten; I'll send the rest tomorrow
For the church, struggling with faith in the midst of global suffering: God, we believe in your willingness to heal and your power to do so. Help our unbelief.
For those who have turned to faith in Jesus for the very first time during this pandemic: God, help our new brothers and sisters grow in the grace and knowledge of our Savior.
For those who don't know Jesus yet but find their hearts stirred by spiritual curiosities and eternal longings: God, in your kindness, lead many to repentance and obedient faith in your Son.
For first responders and frontline health care workers, especially in epicenters of infection: God, reinforce their ranks and strengthen them with supernatural energy.
For companies with the ability (and the mandate) to manufacture much-needed protective equipment for our frontline health care workers: God, bless the work of their hands.
For transit workers, police officers, and other public servants working tirelessly, often without adequate protection: God, give them stamina every day and keep them from falling ill.
For nursing homes, rehabilitation centers, and other long-term care facilities: God, encourage the lonely residents and strengthen the staff members who help them. Prevent further spread of infection, and comfort families who can no longer visit their loved ones.
For the incarcerated, who are particularly vulnerable to the spread of this virus: God, give wisdom to prison officials. Protect inmates and staff from both violence and illness. Deliver them all from fear.
For women and children in abusive situations: God, restrain those who commit harm. Provide protection and rescue for victims and comfort them in their vulnerability.
For countries in the developing world: God, contain the spread of infection in our world's most densely populated and poorest cities. Spare countries already burdened with disease and chronic poor health.
What if the risen Christ Zoom-bombed a meeting of the disciples?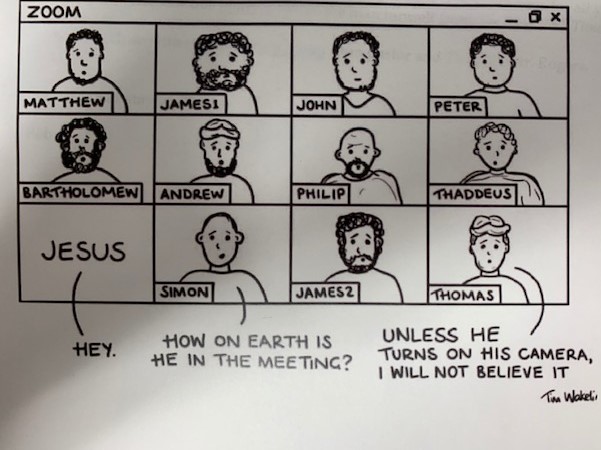 Today's links!
 We've seen ripples of the Corona virus reach out into some unexpected places. This article looks at what it's done to the national supply of chicken wings.
 While there may be an abundance of chicken wings just now, there is a shortage of jigsaw puzzles. Click here to learn more, including how jigsaw puzzles are made.
 There has seldom been a better time for armchair travelling—or for making plans to hit the road once restrictions ease. Conde Nast Traveler's list of the fifty most beautiful places in the United States will help you do both.
 Here's a version of "I Dreamed a Dream" rewritten for those quarantined by the Corona virus. Follow it up with "Weird Al" Yankovic turning "One More Minute" into a social distancing anthem for The Tonight Show. I have a bonus for all you Weird Al fans—this in-depth look at the man himself from The New York Times.
 Let's close with some inspiring quotes from pastor and TV celeb Mr. Rogers.
Stay safe and stay well!
Bob