Daily Devotions
---
Meditation, Prayers, and Assorted Stuff for June 17, 2020
Henri Nouwen, Bread for the Journey, "Witnesses of Love"
How do we know that we are infinitely loved by God when our immediate surroundings keep telling us that we'd better prove our right to exist?
The knowledge of being loved in an unconditional way, before the world presents us with its conditions, cannot come from books, lectures, television programs, or workshops. This spiritual knowledge comes from people who witness to God's love for us through their words and deeds. These people can be close to us, but they can also live far away or may even have lived long ago. Their witness announces the truth of God's love and calls us to act in accordance with it.
Today's prayers by Michael Quoist is "Lord, I have Time."
I went out, Lord. People were coming and going, walking and running. Everything was rushing: cars, trucks, the street, the whole town. People were rushing not to waste time. They were rushing after time, to catch up with time, to gain time.
Good-bye, excuse me, I haven't time. I'll come back I can't wait, I haven't time. I must end this letter—I haven't time. I'd love to help you, but I haven't time. I can't accept, having no time. I can't think, I can't read, I'm swamped, I haven't time. I'd like to pray, but I haven't time.
You understand, Lord, they simply haven't the time. The children are playing, they haven't time right now …. Later on … Students have their classes, and so much work …. Later on …. The young athletes at their sports, they haven't time …. Later on …. The young married couple has their new house; they have to fix it up. They haven't time …. Later on …. The grandparents have their grandchildren. They haven't time …. Later on …. They are ill, they have their treatments, they haven't time …Later on …. They are dying, they have no …. Too late! … They have no more time! And so all people run after time, Lord. They pass through life running-hurried, jostled, overburdened, frantic, and they never get there. They haven't time. In spite of all their efforts they're still short of time, of a great deal of time.
Lord, you must have made a mistake in your calculations. There is a big mistake somewhere. The hours are too short, the days are too short, our lives are too short. You who are beyond time, Lord, you smile to see us fighting it. And you know what you are doing. You make no mistakes in your distribution of time to humanity. You give us time to do what you want us to do.
But we must not lose time, waste time, kill time, for time is a gift that you give us, but a perishable gift, a gift that does not keep.
Lord, I have time, I have plenty of time, all the time that you give me, The years of my life, the days of my years, the hours of my days, they are all mine. Mine to fill, quietly, calmly, but to fill completely, up to the brim, To offer them to you, that of their insipid water You may make a rich wine such as you made once in Cana of Galilee. I am not asking you tonight, Lord, for time to do this and then that, But your grace to do conscientiously, in the time that you give me, what you want me to do. Amen.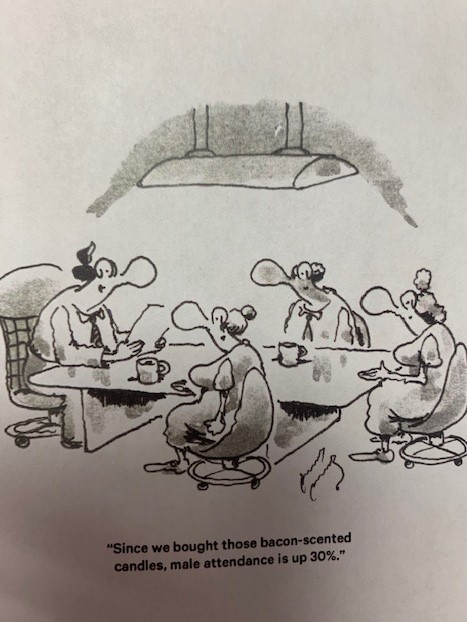 Today's links!

https://www.inspiremore.com/tania-lissova-paper-flowers/Tania Lissova of Tyumen, Russia specializes in crafting miniature flower bouquets. See some of her amazing work here.

 https://www.youtube.com/watch?v=XEsJAlTs3cAComedian Kevin James gets up off the couch. Trust me…just follow the link.
https://www.greatbigstory.com/stories/it-s-not-a-scam-you-can-win-at-the-claw-machine Chen Zhitong is so good at claw machines that their owners often ask him not to play. Some will even buy him dinner as a bribe to stay away. How good is Chen? He's good enough to win 15,000 plush toys in one year.
 https://www.greatbigstory.com/stories/tempura-maple-leaves-a-japanese-snackMaple leaf tempura, also known as "momiji," is a snack native to the Japanese town of Minoh. Battered and deep-fried to a golden crisp, making momiji is a delicate process that takes about a year to prepare. Just ask Setsuko Hisakuni—she's been making them for over 50 years, carrying on a tradition that began in the 1300s.

 https://www.washingtonpost.com/Singer Colette Hawley wanted to perform for seniors. So she rented a cherry picker and sang from outside their windows—thirty feet in the air.

 https://www.youtube.com/watch?v=qqTJoo-0dbwHere's a live street performance by Yamato, The Drummers of Japan, in Plovdiv, Bulgaria.
**************************************************************
Sunday worship at 9 AM, with "Doughnut room" time starting at 8:30 AM. https://us02web.zoom.us/j/815064120, Meeting ID: 815 064 120 Dial in to participate at +1 312 626 6799.
****************************************************************
Copies of "Our Daily Bread" have arrived in the church office. Feel free to stop by and pick up a copy, or help distribute them to others.
******************************************************************
Don't forget communion at Zoom church on July 12! Stop by the church office to get a prefilled cup and wafer set. Help distributing them is much appreciated as well.
********************************************************************
Stay safe and stay well!
Bob